With Needle in Hand is your local needlework store catering to the needs of beginning to advanced stitchers. We carry supplies for many styles of embroidery such as Canvaswork, Crewel, Cross Stitch, Hardanger, Blackwork, Stumpwork, Needlepoint, Ribbon Embroidery, Whitework and Metalwork to name just a few.
Threads including cottons, wool and silk are in stock and ready for your next stitching project. We also offer a nice selection of in-stock quality counted fabrics and specialty fabrics and we have many resources for a special fabric that you may need.
Historic reproduction samplers are a specific focus with designs from the 1600's to the 1800's from The Essamplaire.
Special order requests are always welcome. Some special orders may require a downpayment.
Visit our Class page for a complete list of offerings for the coming months. Classes are in session on selected Monday Evenings from 6:00 pm until 9:00pm and Saturday mornings from 9:00 am until 12 noon and are generally limited to 8 students.
We are open Monday, Wednesday and Thursday from 9:00 am until 4:00 pm. Friday hours are 10:00 am to 7:00 pm. Saturday hours are 12 noon to 7:00 pm. The shop is closed on Tuesdays, Sundays and for all major holidays. During the Winter Months, the shop will only close in the event of a large quantity of snow (6" or more) or icing conditions. Please call the shop when in doubt at 330-758-8122.
On the first Wednesday of each month, we hold a stitch-in beginning at 9:30 a.m. which lasts until 4:00p.m. Members of the Youngstown Chapter of the Embroiderers' Guild of America are part of this group and they encourage others to join them for a day of chatting, stitching and laughing.
We call our evening group, meeting the first Monday of each month, the "Monday Night Stitchers". "Stitchers" meet from 6:00 pm until 9:00. (Call the shop to be sure that we are meeting if the weather is inclement.)
Please call the shop if you are interested in booking a day for your group!
Attention Guilds and Stitching Groups Our designer and teachers are available to teach for your membership. Past or current classes can be taught for your group or we will be pleased to design a class for you based on your needs, likes and budget. Please call us at (330) 758-8122 for more information or to schedule a consultation.
Product Lines
With Needle in Hand is pleased to carry the following lines:
Anchor Threads and Kits including Glorafilia
Blackbird Designs
Dinky Dyes Hand Dyed Silk Ribbon
The Essamplaire Reproduction Samplers
JBW mini charts
Just Another Button Company
Just Nan
Madeira Silk
Mill Hill (selected beads and kits)
Needlepoint Inc. (NPI) Silk
Northern Cross Linen
Presencia Finca Pearl Cottons
Renaissance Dyeing Crewel Wool
Rosewood Manor Charts
The Drawn Thread
The Sampler Company (England)
Scholehouse for the Needle
Thea Grovenour Kits
Valdani Hand Overdyes
YLI Ribbon
With My Needle Charts
Plus Much, Much More!
We also stock popular stitching magazines like:
Cross Stitch and Needlework
Inspirations
Sampler and Antique Needlework
Stoney Creek Cross Stitch
If you are looking for a specific item, please call us or stop in!
Calendar of Classes
March 31 (Monday PM) or April 5 (Saturday) SquishyCuteDesigns cat or dog for Easter (surface and felt applique)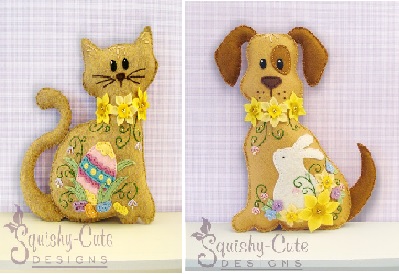 These adorable Easter designs from Squishy Cute Designs are a great way to learn felt applique and brush up on your surface embroidery skills. Students can either chose between "Jellybean" the Easter Cat or "Daffodil" the Easter Dog or make both designs. The class will learn how to transfer markings to felt, stabilize small felt pieces and form dimensional shapes for the daffodil on each animal. The kit will include project directions, acrylic felt, floss, accent beads and stuffing. Finished dimension for "Daffodil is 10" high by 7" wide; "Jellybean" is 8 1/2" high by 8" wide.
Kit fee: $18 or one kit or $28 for both. Students should bring small scissors for fabric and paper and pins to class.
Check out Squishy Cute here! There are patterns for St. Patrick's, Halloween and more.
April 12 (Saturday) - "Poppy" session #2
We will assemble our scissor fob, pincushion and option frame weights. Class includes a demo on cord making for the scissor fob. Stitching will begin on the needle roll with a quick lesson in hemstitching.
Kit fee (unless full kit purchased prior): $12.00
April 28 (Monday PM) "Poppy" Smalls Cross stitch and Finishing Techniques - Multi-session Program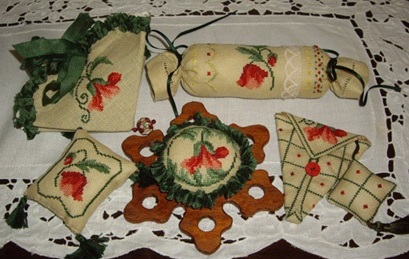 This multi-session course is an excellent opportunity to brush up on your cross-stitch skills and learn how to finish stuffed and lined items. In the first session, we will begin work on the pincushion, scissor fob and optional frame weights. Stitching should be completed by the next session when we will learn how to assemble our items; then we will begin our needle roll and have a quick lesson on hemstitching. Session 3 will be finishing the needle roll and beginning to stitch on the needle book and scissor case. Session 4 will be finishing the lined needle book and scissor case then beginning the sewing set. The last Session will teach students how to assemble more involved lined items where we will add rings and ribbons to the lining prior to final assembly.
The first session kit will include the chart, cotton floss, perle cotton, backing fabric and 32 count Belfast linen fabric for the first smalls. Each subsequent session will include the linen fabric needed for the next set of smalls and needed finishing supplies. Students can chose from four color ways for the poppies: Red, Yellow, Blue or Coral. Our course uses the "Papaveri" smalls chart set from Blu Cobalto (Mariateresa Capo Berti) of Italy.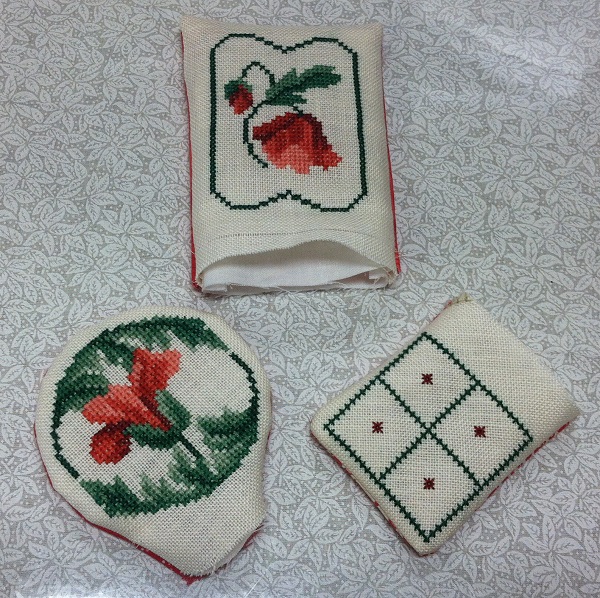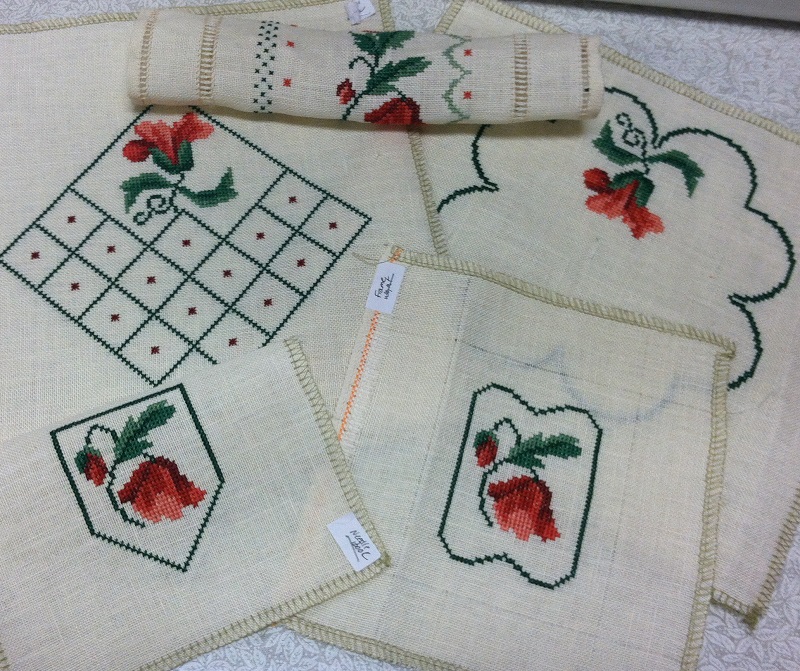 Kit Fee for Session #1: $49.00 or $95.00 for the materials for all 5 lessons Kit #2 is $12.00; Kit #3 is $12.00, Kit #4 is $14.00 and Kit #5 is $8.00.
Other Upcoming Classes for 2014
May 3 (Sat) or May 12 (Mon PM) - Beginning Ribbon Embroidery series II - Bleeding Hearts
May 17 (Sat) "Poppy" Session #3
May 19 (Mon. PM) "Poppy" Session #2
May 24 (Sat.) Blackwork band sampler
May 31 (Sat.) Pansy Wreath - Surface Embroidery with buttons
June 14 (Sat.) "Poppy" Session #4
June 21 & June 28 (Saturday Only) - English Paper Piecing - two Sessions 9am -1 pm
June 23 (Mon. PM) "Poppy Session #3
Students should always bring their regular stitching tools such as scissors, a thimble, etc. any additional magnification or lighting they may prefer.
All photos copyright 2012-2014 With Needle in Hand, Julia Kerner. Original With Needle in Hand designs copyright 2010-2014 With Needle in Hand, Julia Kerner. All other designs shown with permission of their respective designers/companies.