With Needle in Hand is your local needlework store catering to the needs of beginning to advanced stitchers. We carry supplies for many styles of embroidery such as Canvaswork, Crewel, Cross Stitch, Hardanger, Blackwork, Stumpwork, Needlepoint, Ribbon Embroidery, Romanian Point, Whitework and Metalwork to name just a few.
Threads including cottons, wool and silk are in stock and ready for your next stitching project. We also offer a nice selection of in-stock quality counted fabrics and specialty fabrics and we have many resources for a special fabric that you may need.
Historic reproduction samplers are a specific focus with designs from the 1600's to the 1800's from The Essamplaire.
Special order requests are always welcome. Some special orders may require a downpayment.
Visit our Class page for a complete list of offerings for the coming months. Classes are in session on selected Monday Evenings from 6:00 pm until 9:00pm and Saturday mornings from 9:00 am until 12 noon and are generally limited to 8 students.
We are open Monday, Wednesday and Thursday from 9:00 am until 4:00 pm. Friday hours are 10:00 am to 7:00 pm. Saturday hours are 12 noon to 7:00 pm. The shop is closed on Tuesdays, Sundays and for all major holidays. During the Winter Months, the shop will only close in the event of a large quantity of snow (6" or more) or icing conditions. Please call the shop when in doubt at 330-758-8122.
On the first Wednesday of each month, we hold a stitch-in beginning at 9:30 a.m. which lasts until 4:00p.m. Members of the Youngstown Chapter of the Embroiderers' Guild of America are part of this group and they encourage others to join them for a day of chatting, stitching and laughing.
We call our evening group, meeting the first Monday of each month, the "Monday Night Stitchers". "Stitchers" meet from 6:00 pm until 9:00. (Call the shop to be sure that we are meeting if the weather is inclement.)
Please call the shop if you are interested in booking a day for your group!
Attention Guilds and Stitching Groups Our designer and teachers are available to teach for your membership. Past or current classes can be taught for your group or we will be pleased to design a class for you based on your needs, likes and budget. Please call us at (330) 758-8122 for more information or to schedule a consultation.
Product Lines
With Needle in Hand is pleased to carry the following lines:
Anchor Threads and Kits including Glorafilia
Blackbird Designs
Dinky Dyes Hand Dyed Silk Ribbon
The Essamplaire Reproduction Samplers
JBW mini charts
Just Another Button Company
Just Nan
Madeira Silk
Mill Hill (selected beads and kits)
Needlepoint Inc. (NPI) Silk
Northern Cross Linen
Presencia Finca Pearl Cottons
Renaissance Dyeing Crewel Wool
Rosewood Manor Charts
The Drawn Thread
The Sampler Company (England)
Scholehouse for the Needle
Sweetheart Tree
Thea Grovenour Kits
Valdani Hand Overdyes
YLI Ribbon
With My Needle Charts
Plus Much, Much More!
We also stock popular stitching magazines like:
Cross Stitch and Needlework
Inspirations
Sampler and Antique Needlework
Stoney Creek Cross Stitch
If you are looking for a specific item, please call us or stop in!
Calendar of Classes
July 26 & August 23 (Saturday) "Pearls of Wisdom" Beginning Cross stitch and Hardanger
This is a 2 session class.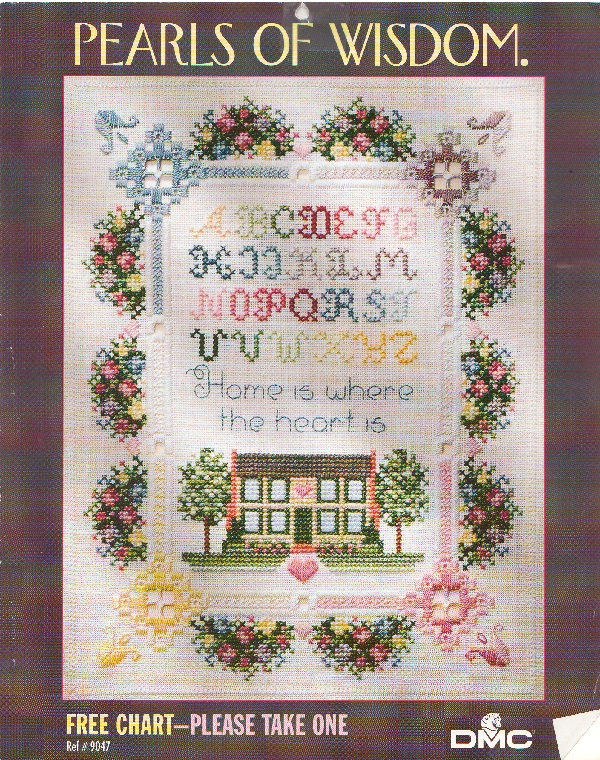 This beginning sampler project combines hardanger embroidery and cross stitch on 28ct or 25ct white Lugana. The design is worked entirely in perle cottons - no stranding of floss required! The first session will show you basic techniques for hardanger embroidery and familiarize you with reading a hardanger chart. Students will have until the next class on August 23 to complete the hardanger stitching that makes up the border of the design. In session 2, we get to cut our Kloster blocks, wrap our bars and make our dove's eyes in the design's corners. We will then learn to read a cross stitch chart and begin our cross stitching. This design is a DMC publication approved for teaching. Students should bring a 5" or 6" hoop if they would normally use one.
Kit fee: $28.00 Design size 7 1/2 wide by 9 5/8 high.
July 28 (Monday PM) "Poppy Smalls" Session #4
Session #4 will go over finishing lined objects and will cover construction of the scissor case and needle book. The needle book will be completed in class. We will then begin stitching on the sewing kit.
Kit fee: $14.00
August 9 (Saturday AM) or August 11 (Monday PM) "Embellished Scarf" Surface Embroidery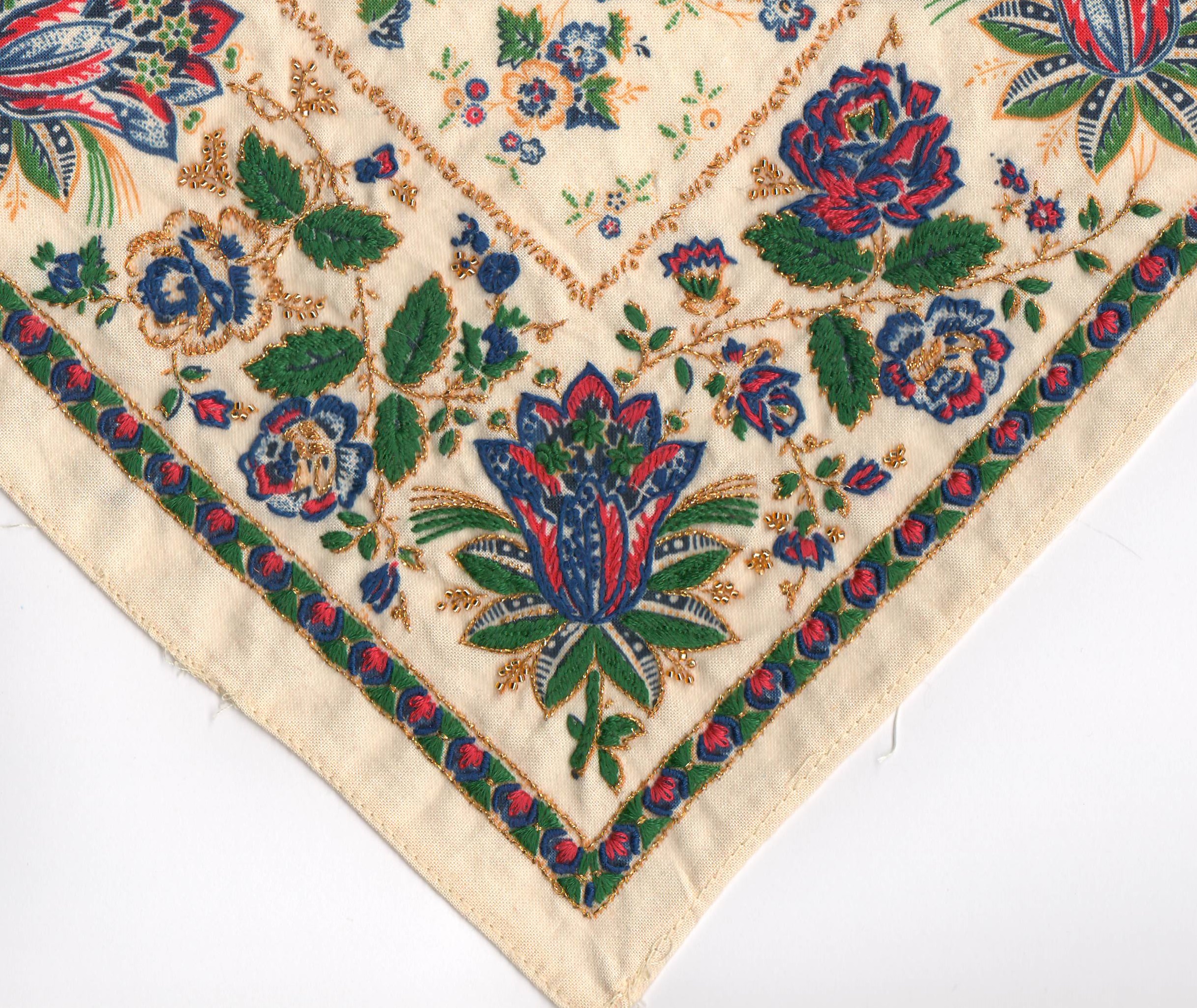 Using a printed scarf panel from Moda Fabric's "Russian Tradition" collection, students will use cotton floss, metallic thread and beads to embellish a corner of the decorative scarf panel. A mix of stitches will be taught including Romanian Stitch, Bullion, Buttonhole, Satin and Outline/Stem. Suitable for beginners or experienced stitchers. Kit includes panel, threads and needles. Students should bring a 5" or 6" hoop or other frame of their choice. Finished size of the panel corner is 5 1/2" x 5 1/2". Size of unfinished panel is approximately 22" square.
Kit fee: $18.00
August 23 (Saturday AM) "Pearls of Wisdom" Session #2
In session 2, we get to cut our Kloster blocks, wrap our bars and make our dove's eyes in the design's corners. We will then learn to read a cross stitch chart and begin our cross stitching. Continuation of two part program.
August 25 (Monday PM) "Poppy Smalls" Session #5
Our last installment in this finishing series will address assembly of the lined sewing kit and attachment of accessories.
Kit fee: $8.00
August 30 (Saturday - All Day Class - 9:00 am - 3:00 pm) "Autumn Leaves" Beginning Stumpwork Embroidery Level II
A combination of different leaves (maple, oak, walnut & birch) and nuts make a fiery display on a box top or as a pin. Continuing to build on basic stumpwork stitches (buttonhole, satin stitch, long and short), students will learn detached buttonhole for making stuffed acorns. The class will also cover making a "slip" for a dimension walnut.
Kit fee: Estimate $38.00
September 13 (Saturday AM) or September 15 (Monday PM) "Borage" Intermediate Ribbon Embroidery I
The third in our new series of Ribbon Embroidery designs, "Borage" is our next design. Blue and white borage flowers in silk ribbon have covered bead centers.
Kit fee: Estimate $25.00
September 20 (Saturday AM) Beginning Tambour Embroidery
As simple Jacobean leaf and flower design is stitched using the tambour hook, creating a series of quick to produce chain stitches. Kit will include the tambour hooks (fine, medium and heavy with a wooden handle) threads, fabric with design and a needle for finishing thread ends. Students can purchase an optional tambour embroidery frame for $36.00 or order directly from Lacis.
Kit fee: $32.00
All photos copyright 2012-2014 With Needle in Hand, Julia Kerner. Original With Needle in Hand designs copyright 2010-2014 With Needle in Hand, Julia Kerner. All other designs shown with permission of their respective designers/companies.