With Needle in Hand is your local needlework store catering to the needs of beginning to advanced stitchers. We carry supplies for many styles of embroidery such as Canvaswork, Crewel, Cross Stitch, Hardanger, Blackwork, Stumpwork, Needlepoint, Punch needle, Ribbon Embroidery, Romanian Point, Tatting, Whitework, Wool Applique and Metalwork to name just a few.
Threads including cottons, wool and silk are in stock and ready for your next stitching project. We also offer a nice selection of in-stock quality counted fabrics and specialty fabrics including hand-dyed wools. We have many resources for a special fabric that you may need.
Historic reproduction samplers are a specific focus with designs from the 1600's to the 1800's from many sampler designers including Hands Across the Sea Samplers.
Special order requests are always welcome. Some special orders may require a down payment.
Visit our Class page for a complete list of offerings for the coming months. Classes are in session on selected Monday Evenings from 6:00 pm until 9:00pm and Saturday mornings from 9:00 am until 12 noon and are generally limited to 16 students.
We are open Monday, Wednesday and Thursday from 10:00 am until 5:00 pm. Friday hours are 10:00 am to 6:00 pm. Saturday hours are 12 noon to 6:00 pm. The shop is closed on Tuesdays, Sundays and for all major holidays. During the Winter Months, the shop will only close in the event of a large quantity of snow (4" or more) or icing conditions. Please call the shop when in doubt at 330-758-8122.
On the first Wednesday of each month, we hold a stitch-in beginning at 10:00 a.m. which lasts until 5:00p.m. Members of the Youngstown-Warren Chapter of the Embroiderers' Guild of America are part of this group and they encourage others to join them for a day of chatting, stitching and laughing. (Call the shop to be sure that we are meeting if the weather is inclement.)
Please call the shop if you are interested in booking a day for your group!
Attention Guilds and Stitching Groups Our designer and teachers are available to teach for your membership. Past or current classes can be taught for your group or we will be pleased to design a class for you based on your needs, likes and budget. Simply call us at (330) 758-8122 for more information or to schedule a consultation.
Product Lines
With Needle in Hand is pleased to carry the following lines:
Alessandra Adelaide
Anchor Threads
Barbara Anna Designs
Blackbird Designs
Crane Designs
Dinky Dyes Hand Dyed Silk Ribbon
The Essamplaire Reproduction Samplers
Hands Across the Sea Samplers
JBW
Just Another Button Company
Just Nan
Little House Needleworks
Madeira Silk
Mill Hill (selected beads and kits)
Needlepoint Inc. (NPI) Silk
Nimue
Planet Earth Silk Ribbon
Presencia Finca Pearl Cottons #5, #8, #12, #16
Renaissance Dyeing Crewel Wool
Rosewood Manor Charts
Rovaris
The Sampler Company (England)
Valdani Hand-Overdyed Cotton, Perle Cotton & Silk Perle
The Workbasket
YLI Ribbon
Plus Much, Much More!
We also stock popular stitching magazines like:
Inspirations
Punch Needle & Primitive Stitcher
Stoney Creek Cross Stitch
If you are looking for a specific item, please call us or stop in!
Calendar of Classes
New Date! November 10 (Saturday 9:00 am- noon) - "Finds of Fall" Leaf-pounding and Surface Embroidery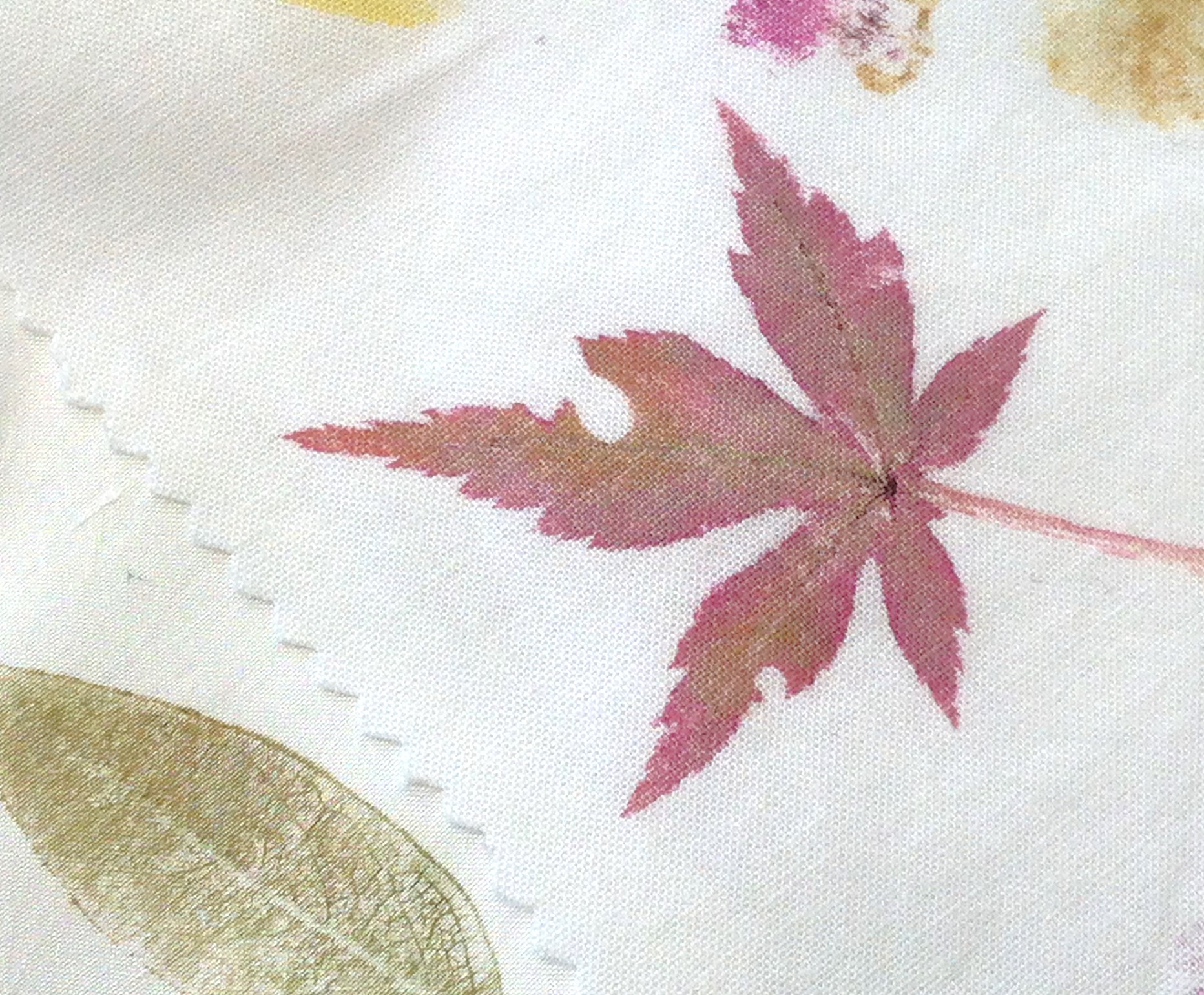 Natural pigments from the fall brilliance of leaves are transferred onto fabric through pounding. A metal-headed hammer is used to force the color into the fabrics. There is no set design for this class, so you can be creative, and our color palette will be based on the leaves available at the time of class. Vein details, stems and additional accents will be added with surface stitching.
Students should bring a metal-headed hammer (no rubber or hard plastic), an old wooden cutting board or similar surface, and wear or bring an old smock or shirt to protect your clothing.
Kit includes several types of cotton fabric as well as a cut of embroidery linen and silk, a mix of accent fibers, beads and metallics. Kit fee: $18.00
November 10 (Saturday 12:30-4:30 pm) or November 12 (Monday 5:30 - 9:30 pm) - "Mr. Turkey" Embroidery and Embellishing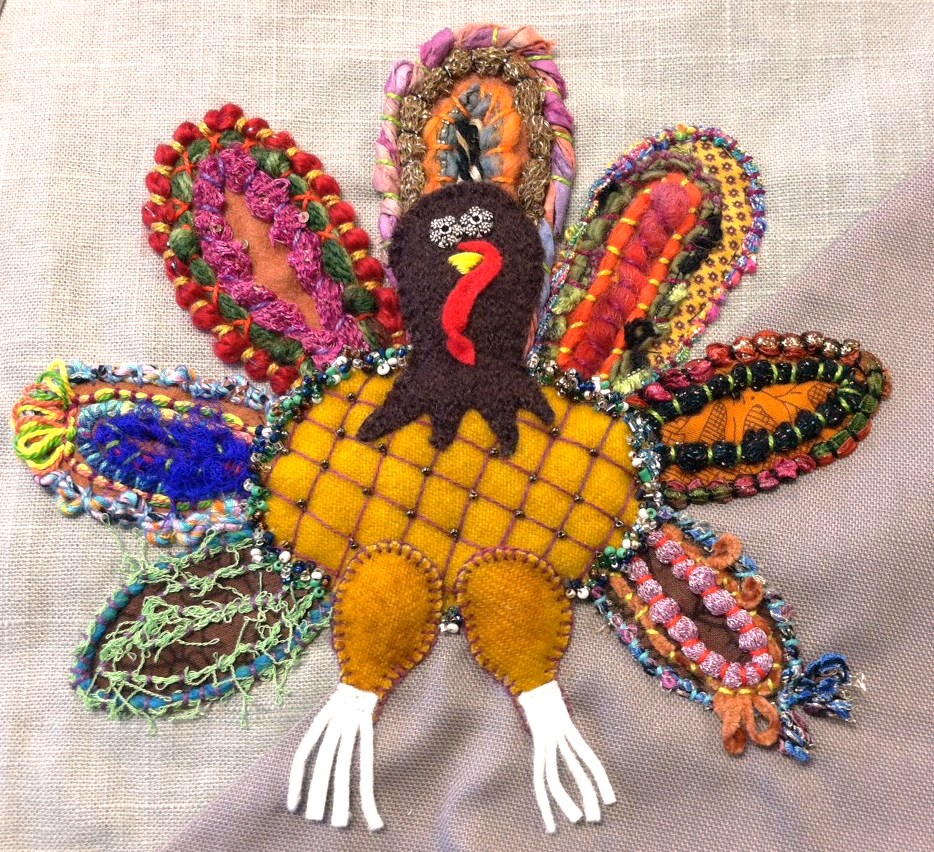 The latest design from Ginger Mangie of Wildside Stitching, "Mr. Turkey" is certainly wild in his regalia of mixed threads and embellishments. He's is probably the coolest turkey you'll make since you traced your hand in grade school!
Using wools, cottons and lots of different threads, he'll give a each stitcher an opportunity to think our of the box (or roaster). Basic couching and embroidery stitches are used throughout the design.
Kit includes all fibers and fabrics. Kit fee: $28.00
November 17 (Saturday 9:00 am - noon) or November 19 (Monday 6-9 pm) - "Poinsettia" Stumpwork Embroidery
A beautiful multi-petaled poinsettia is created using fine wire, muslin fabric and silk threads. Suitable for a pin, box top or to be framed, our flower is stitched using couching, buttonhole and long and short stitching. Color options of bright red, burgundy, variegated bright pink of mauve are chosen in class.
This class is recommended for confident beginners or intermediate level stitchers.
Kit fee: $30.00 and includes all materials including a 4" hoop. Stitchers may which to bring an additional 4" hoop.
Cancelled November 24 - "12 Days of Christmas" Stocking
December 8 or 10 - Shisha Embroidery Ornament
Keep Stitching!
All photos copyright 2012-2018 With Needle in Hand, Julia Kerner. Original With Needle in Hand designs copyright 2010-2018With Needle in Hand, Julia Kerner. All other designs shown have copyrights from their respective designers/companies.