With Needle in Hand is your local needlework store catering to the needs of beginning to advanced stitchers. We carry supplies for many styles of embroidery such as Canvaswork, Crewel, Cross Stitch, Hardanger, Blackwork, Stumpwork, Needlepoint, Ribbon Embroidery, Romanian Point, Whitework and Metalwork to name just a few.
Threads including cottons, wool and silk are in stock and ready for your next stitching project. We also offer a nice selection of in-stock quality counted fabrics and specialty fabrics and we have many resources for a special fabric that you may need.
Historic reproduction samplers are a specific focus with designs from the 1600's to the 1800's from The Essamplaire.
Special order requests are always welcome. Some special orders may require a downpayment.
Visit our Class page for a complete list of offerings for the coming months. Classes are in session on selected Monday Evenings from 6:00 pm until 9:00pm and Saturday mornings from 9:00 am until 12 noon and are generally limited to 8 students.
We are open Monday, Wednesday and Thursday from 9:00 am until 4:00 pm. Friday hours are 10:00 am to 7:00 pm. Saturday hours are 12 noon to 7:00 pm. The shop is closed on Tuesdays, Sundays and for all major holidays. During the Winter Months, the shop will only close in the event of a large quantity of snow (6" or more) or icing conditions. Please call the shop when in doubt at 330-758-8122.
On the first Wednesday of each month, we hold a stitch-in beginning at 9:30 a.m. which lasts until 4:00p.m. Members of the Youngstown Chapter of the Embroiderers' Guild of America are part of this group and they encourage others to join them for a day of chatting, stitching and laughing.
We call our evening group, meeting the first Monday of each month, the "Monday Night Stitchers". "Stitchers" meet from 6:00 pm until 9:00. (Call the shop to be sure that we are meeting if the weather is inclement.)
Please call the shop if you are interested in booking a day for your group!
Attention Guilds and Stitching Groups Our designer and teachers are available to teach for your membership. Past or current classes can be taught for your group or we will be pleased to design a class for you based on your needs, likes and budget. Please call us at (330) 758-8122 for more information or to schedule a consultation.
Product Lines
With Needle in Hand is pleased to carry the following lines:
Anchor Threads and Kits including Glorafilia
Blackbird Designs
Dinky Dyes Hand Dyed Silk Ribbon
The Essamplaire Reproduction Samplers
JBW mini charts
Just Another Button Company
Just Nan
Madeira Silk
Mill Hill (selected beads and kits)
Needlepoint Inc. (NPI) Silk
Northern Cross Linen
Presencia Finca Pearl Cottons
Renaissance Dyeing Crewel Wool
Rosewood Manor Charts
The Drawn Thread
The Sampler Company (England)
Scholehouse for the Needle
Sweetheart Tree
Valdani Hand Overdyes
YLI Ribbon
With My Needle Charts
Plus Much, Much More!
We also stock popular stitching magazines like:
Cross Stitch and Needlework
Inspirations
Sampler and Antique Needlework
Stoney Creek Cross Stitch
If you are looking for a specific item, please call us or stop in!
Calendar of Classes
October 13 (Monday PM) "Balloon Flowers" Intermediate Ribbon Embroidery II
The final installment in our second series of ribbon embroidery projects is a lovely clump of blue balloon flowers and white balloon flowers. Most of the project will be worked with 7 & 13 mm ribbons.
Kit fee: $29
October 18 (Saturday - All Day Class - 9:00 am - 3:00 pm) "Autumn Leaves" Beginning Stumpwork Embroidery Level II
Class Full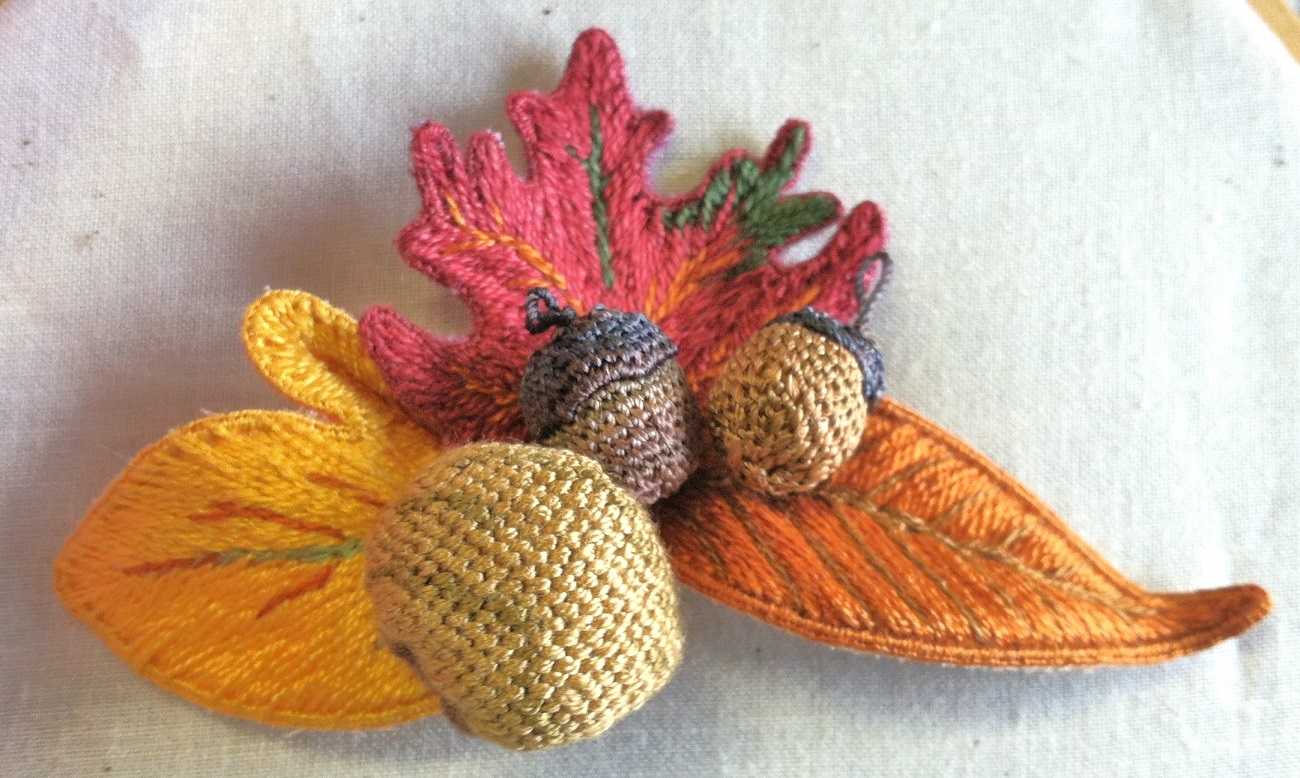 A combination of different leaves (maple, oak, walnut & birch) and nuts make a fiery display on a box top or as a pin. Continuing to build on basic stumpwork stitches (buttonhole, satin stitch, long and short), students will learn detached buttonhole for making stuffed acorns. The class will also cover making a "slip" for a dimensional walnut.
Kit fee: $38.00
October 20 (Monday PM) or October 25 (Saturday) "Silver Snowflake" Beginning Goldwork Embroidery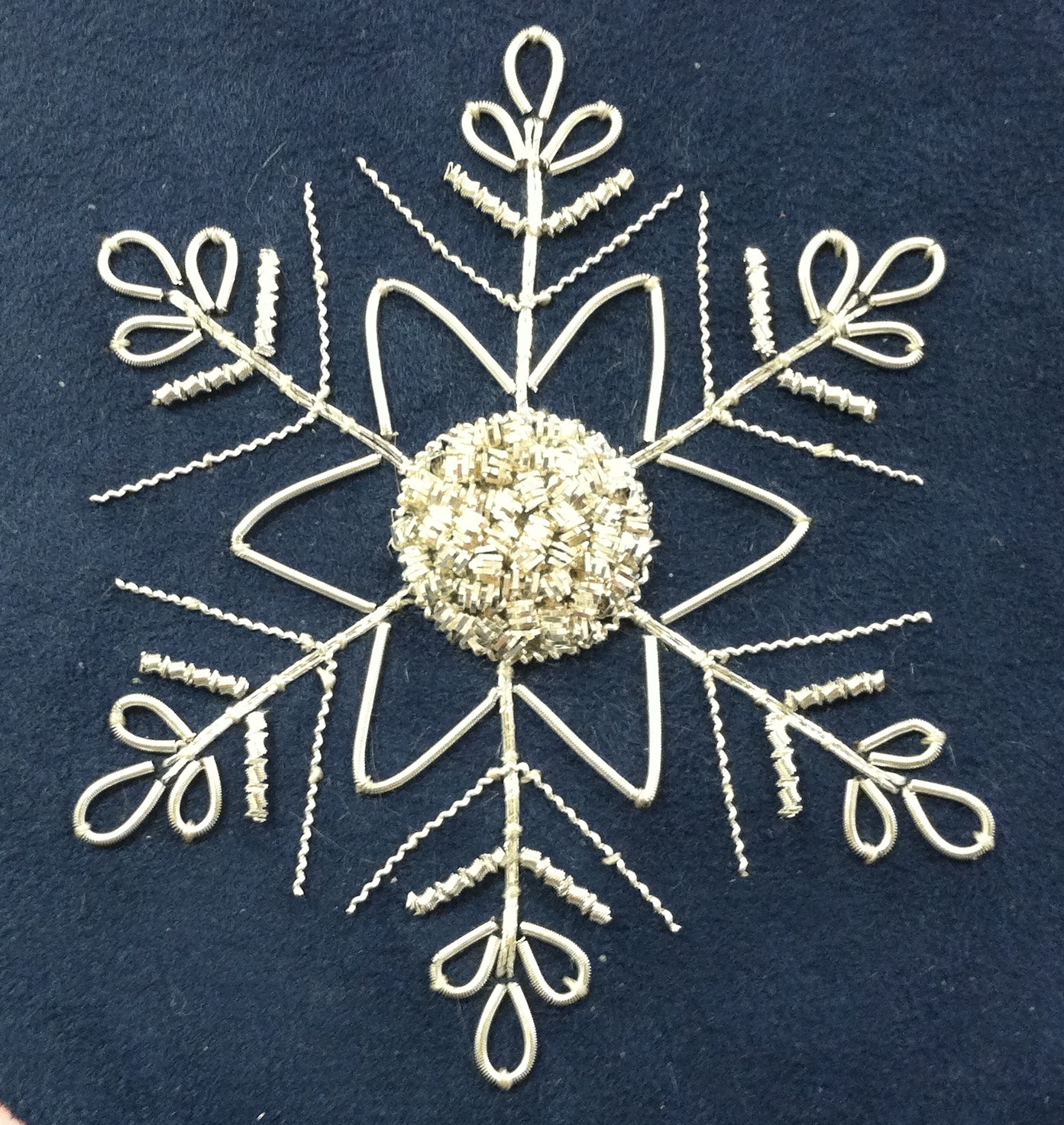 A stunning snowflake worked on navy blue suede cloth, our silver snowflake uses silver perle purl, silver check, japan silver and tambour silver. Great introduction to goldwork for those wishing to try the technique.
Students should bring a older pair of small scissors for cutting the metals. Please note: metals and threads are not pure silver, but are a plated silver-tone or a silver-plated material. There may be a possibility of tarnish over time on the silver-plated purls.
Kit fee: $25.00
November 8 (Saturday) or November 10 (Monday PM) "Santa's Gifts" Surface Embroidery
Thanks to Nannette of "Thousands of Bolts" an amazing mail-order fabric source and neighbor here in Boardman, we have a stocking for this year!
"Santa's Gifts" should give us plenty of ways to use our surface embroidery skills to decorate Santa, his reindeer and a whole selection of ornaments, plus a pair of bonus stocking shapes. This panel is so cute. Expect to use cotton floss, Accentuate & Presencia metallics, beads, buttons, bells and so much more.
Students should bring a 5" or 6" hoop if they normally would normally work with one.
Kit fee: $30.00
November 15 (Saturday - Full Day Class) "Kicky Boots" Embellishment and Applique
Guest instructor Ginger Mangie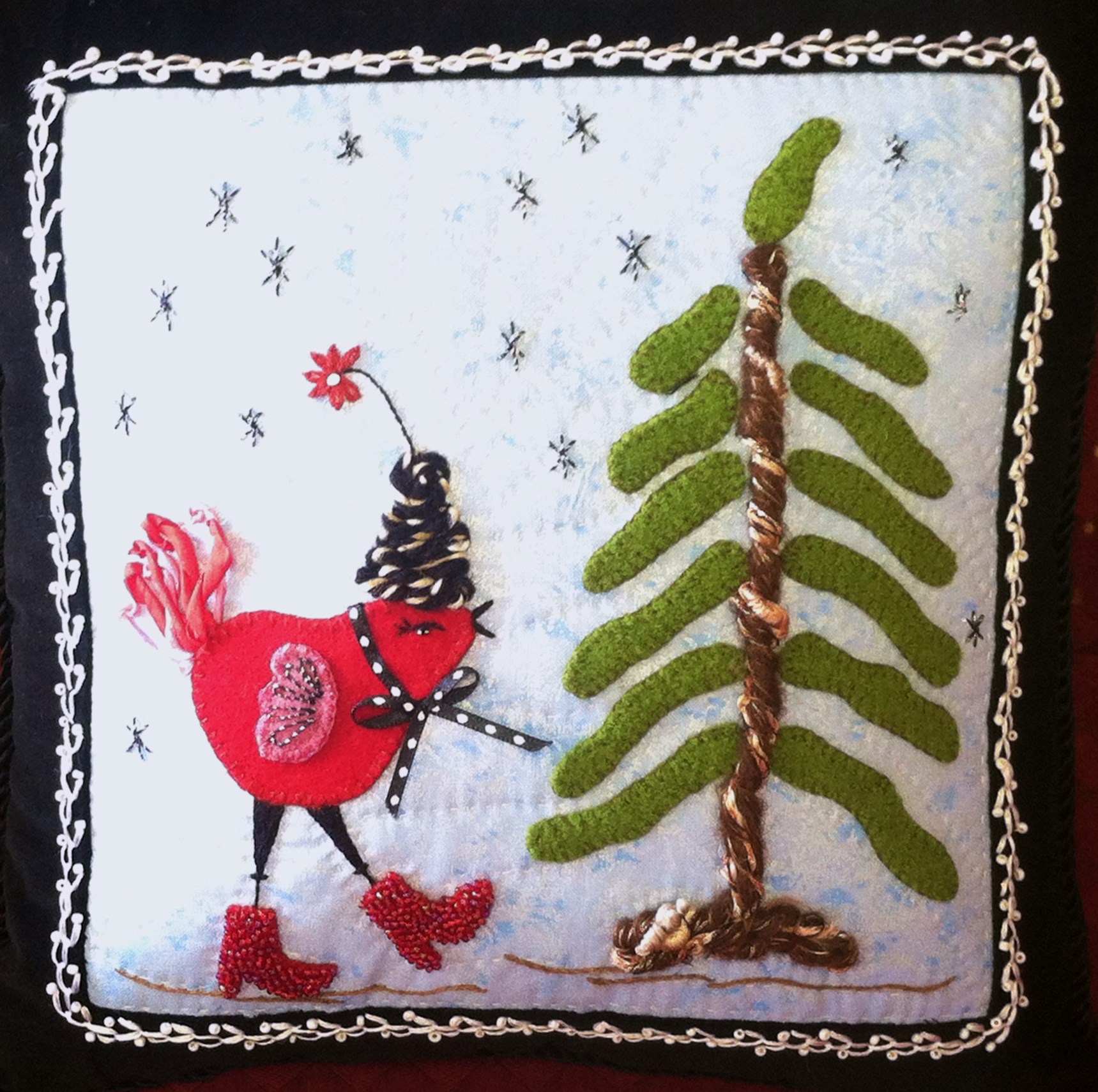 Fabric applique and embellishing make "Kicky Boots" a very special bird indeed! Kit will include wool fabric, a cotton wintry background fabric and a mix of ribbons, yarns and threads to add surface embroidery and dimension to the project. "Kicky" even has a bouffant hair-do with those sparkly boots.
Kit fee: $20.00 . Students use their own fabrics for the border of the project.
November 17 (Monday PM) or November 22 (Saturday) Beginning Hardanger - Keepsake Hardanger Christmas Ornament 2014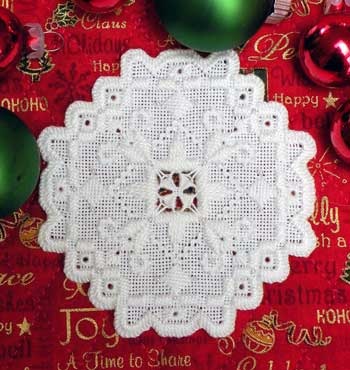 We will be using talented designer Roz Watnemo's Keepsake Hardanger Christams Ornament for 2014 for our stitch-along class. Kit from Nordic Needle includes 22ct Hardanger fabric, needle, threads, beads and storage case for completed project. Design uses satin stitch, blocks, cable and button hole stitches with a Greek Cross center motif. The project is suitable for all levels including those new to Hardanger.
Students should bring a 5" hoop to class for working the satin stitches and center design.
Kit fee: $10.00
December 6 (Saturday) or December 8 (Monday PM) Beginning Tamari - Decorative Ball or Ornament
Please register by November 28th.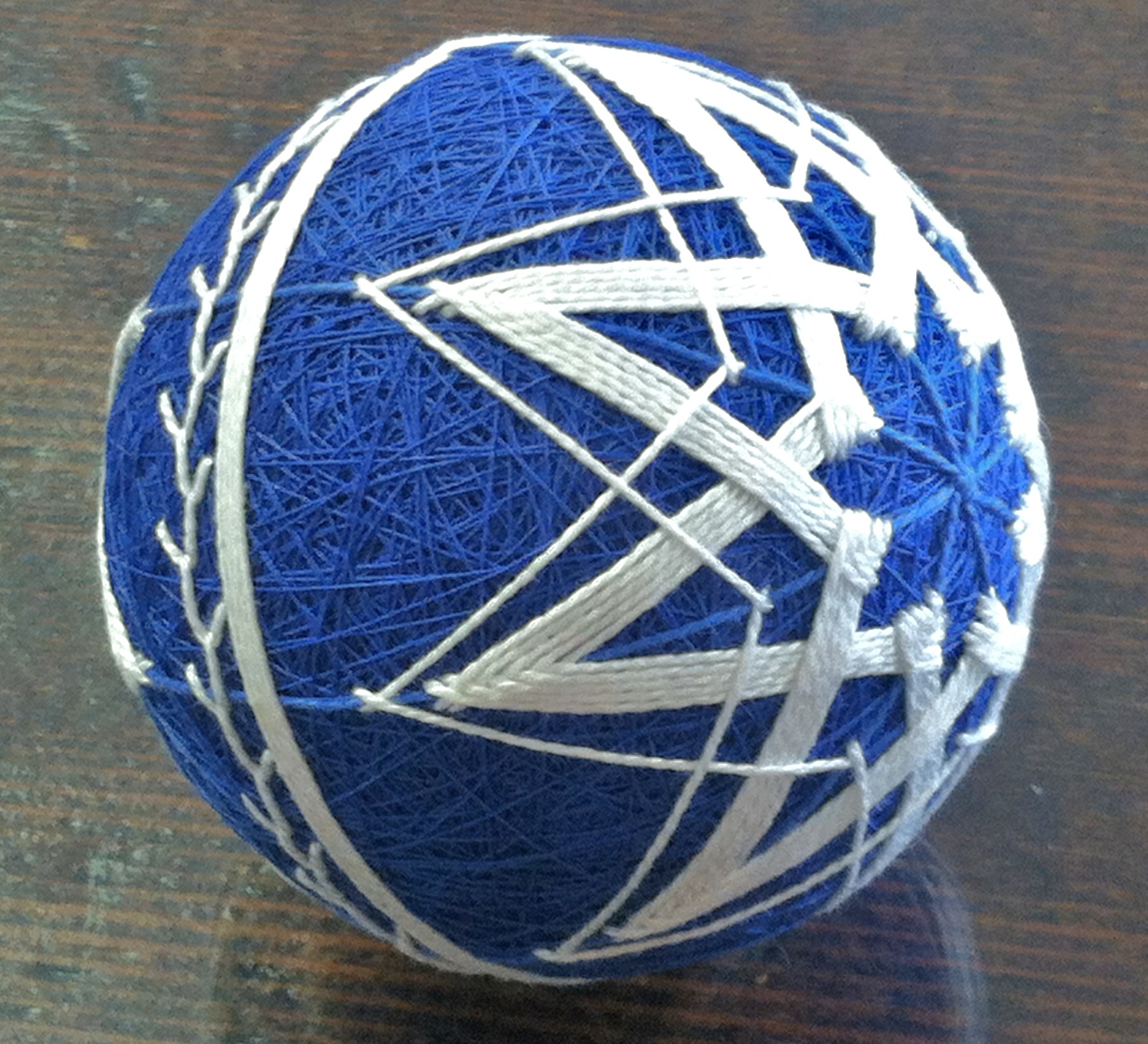 This is a great, quick project for those last minute gifts. Our ball uses two different patterns, one for each end, so that you will learn two different techniques with one class. Color choices are blue (shown), yellow, red or green with white pearl cotton. Full color instructions in the kit also include directions for wrapping and marking a ball at home.
Kit fee: $15.00
December 13 (Saturday) Felt Applique and Surface Embroidery - "Jingle the Christmas Cat" or "Holly the Christmas Dog"
1 Spot Available - please register before December 6th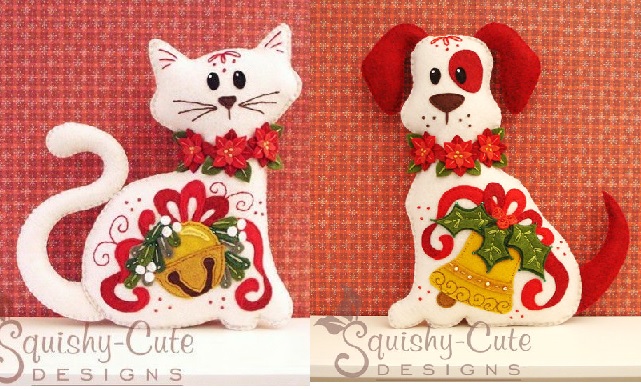 As another pair of the fantastically adorable creations from Squishy Cute Design, "Jingle" and "Holly" make their way to us just in time for Christmas. Class will cover different felt applique transfer and sewing techniques plus various surface embroidery stitches. Kit includes acrylic felt, threads, needle and color pattern from the designers.
Students can order either "Jingle" the cat, "Holly" the dog or both kits.
Kit fee: Jingle or Holly $18 or $28 for both Jingle and Holly
Please note the shop closings for Thanksgiving (November 27 & 28) and Christmas Holiday and Inventory (December 24 - January 1).
All photos copyright 2012-2014 With Needle in Hand, Julia Kerner. Original With Needle in Hand designs copyright 2010-2014 With Needle in Hand, Julia Kerner. All other designs shown with permission of their respective designers/companies.